Well this 2011 season should get a little more fun and challenging. Learning new techniques and learning what other higher up in the field are doing has been an interest of mine. However finally being able to act out what they do is even better.
This season we are trying out remote shooting. With the help of Jay Mcneil for the Pocketwizards help. I plan to finally start seeing what interesting angles can be had at a game and give off a new spin on the game.
At the moment i'm starting with Basketball. Simply due to my understanding of this sport i know where i can mount a camera with 1) not being yelled at by the officials and 2) that it won't get destroyed by a player/ball
So for those's wondering what have used today was: 7D, canon 15mm f/2.8 FE, Pocketwizards, Manfrotto Magic Arm, Super clamp and my canon cps strap. As well to remove the glare from the backboard from shooting through glass i've used a back printed peice of paper and tapped it just under the lens
Backside Image of the setup
Front side image of the camera
Now the images that we got from this setup are seen below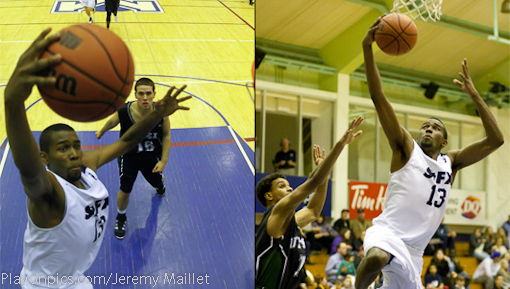 Here's an original right out of the camera
Now there's a few fault from this setup as you can see. 1) the focus is the biggest issue. Having the camera setup on MF and guessing the focal distance is difficult (well for me) so with some practice i hope to get this nailed down. I had an aperture of 3.5, i'll probably up this to 4.5-5.6 next time just to have the focus abit more.
2nd is that the angle is a bit odd. Since it was the first attempt, i will be probably putting the camera just above the shooting box rather than off to the side.
The other misc. issues are that the arm if put at a 90 degree angle it seems to slip a alittle maybe the camera shots become garbage. domain archive So having the strap abit holding some weight enable the camera not to fall as well, not to fall on the people if for whatever reason the arm gave out.
We will retry and follow up with this next weekend at the next basketball game.
Next sports to try Volleyball and Hockey.