X Woman taking it home this year. St Francis Xavier University hosted this years 2011 AUS championship. Maybe giving an edge to the STFX with the fan. Certainly tho the team was here to play this year. With having 18 wins of the 24 games last year, this year then had a perfect record. Making them the biggest contender for the championship. Each game was a blow out. First with playing Mount A crushing them 6-1 then moving on to Dalhousie with a win over them by 9-2. At some point fans must have wondered. When is there going to be a challenge? Well it finally came time for the Gold metal match. However to what a viewer would think would be a Great match up wasn't. By the end of first period STFX already had a lead. then came to 2nd period when they started making the grave for UdeM (university of Moncton) chance on even coming back.
This game though quickly came to an end in the 3rd quarter when x had over a 5 point lead on UdeM and still wouldn't let up. They managed to finish the game of 9-2 with X taking the AUS trophy home and headed to Laurier for the CIS Canadian National Championship.
Here's a few shots: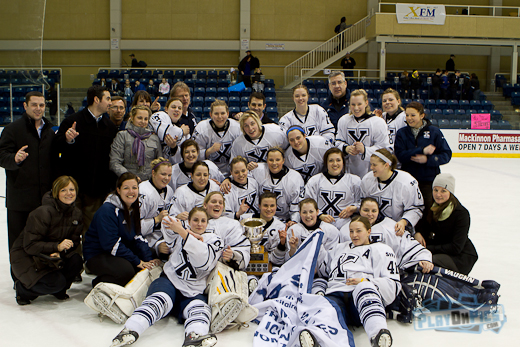 And as always now, here's a video of the Trophy!